The next step in my quest for quality and to save American
small
business is to only buy American made products. I need some new running shoes, and as Flight of the Conchords so aptly put it:

"They're turning kids into slaves just to make cheaper sneakers
But what's the real cost?
Cause the sneakers don't seem that much cheaper
Why are we still paying so much for sneakers when you got them made by little slave kids?
What's your overhead?
"
So anyway, the point of this post is to see if anyone in this world knows of any good running shoes made in America. This is what I've found so far:

New Balance has some shoes that are made in the USA. There just isn't a huge selection of styles and colors, and some of the materials are imported. This is what they say about it:
"We believe most consumers think "Made in USA" means that real manufacturing jobs were provided to U.S. workers in order to make that product. The shoes produced in our U.S. factories are made by U.S. workers using both U.S. and imported materials. Where the level of domestic value is at least 70%, we have labeled the shoe "Made in USA." Where it falls below that level, we have qualified it as containing both domestic and imported materials. This determination is based in part on a survey of consumers conducted by the FTC." --New Balance Inc.


Chaco Sandals are made in the United States until July 31 when they will be made in China. The new shoes they have now are also made in China. So if you are thinking of buying any new Chacos, buy them soon. I need mine repaired, they have an actual hole in the bottom. All repairs are still done in Colorado...as far as I know. That is what their website said.

I might just end up buying the New Balance "Lace Up for the Cure" shoes, because if I'm going to support a cause, I might as well start supporting every cause, right?

What I would really like are some American made running shoes that look like this: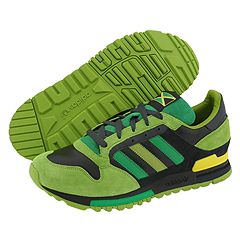 Please make these shoes in America. Thank you.